The Babe and I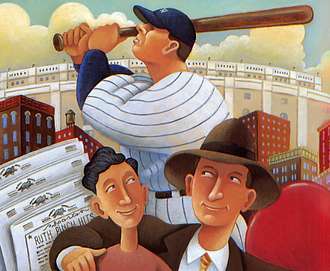 "Adler and Widener score big -- their book reads like a labor of love." -- Publishers Weekly

"This is the kind of book that makes you want to buy season tickets." -- The Horn Book

* "This nastalgic, hearwarming story about hard work and teamwork highlights heroes big and small." -- Booklist (starred review)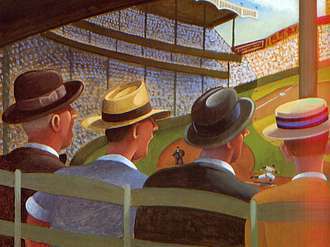 From School Library Journal
Grade 1-4-A moving story about how the famous Yankee unknowingly affects a young fan and his family. In the summer of 1932, a boy spots his father dressed in a suit and tie selling apples on the street, and he realizes that his dad, like so many other men, has lost his job. To help out their families, the youngster and a friend start selling newspapers outside Yankee Stadium, calling out the headlines from Babe Ruth's latest game. Their efforts earn some money, but the narrator is worried that his dad's feelings will be hurt if he finds out. Eventually, father and son come to a tender and silent understanding about their money-making activities. The tone brightens considerably when the boy sells a paper to the Babe himself and gets to see a real Yankee game, thanks to the slugger's generosity. Adler does a good job of balancing the personal relationship between father and son with a vivid portrait of the Depression and the positive impact of a true sports hero. Widener's stylized acrylic illustrations bring the city streets to life in an appealing way. The varied perspectives and exaggerated figures add excitement to the setting and the images and use of color perfectly reinforce the story's changing moods and emotions. A powerful picture book that's sure to be popular.
Steven Engelfried, West Linn Public Library, OR
Copyright 1999 Reed Business Information, Inc.